What to do if you're unhappy with your new website?
Are you feeling frustrated and annoyed about your new website?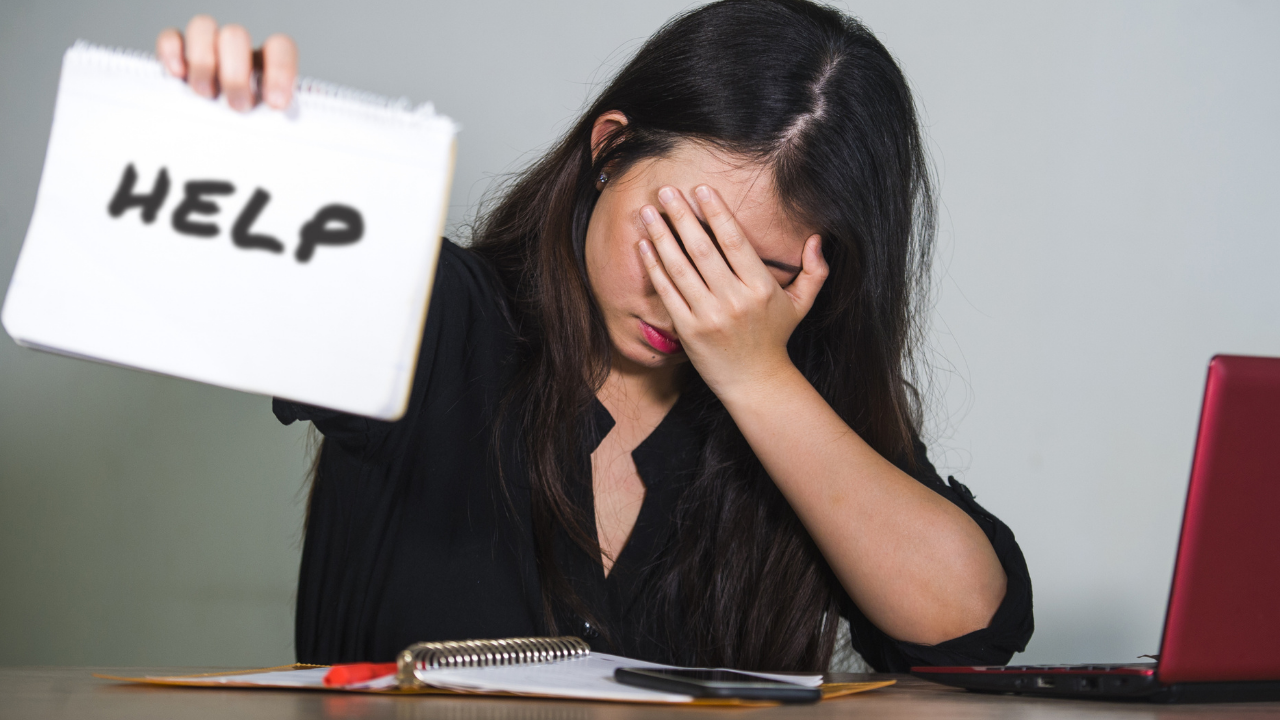 First things first, if you've had a website created for you and you aren't happy with the outcome upon launch, your first point of call should be your designer – but going in armed with the knowledge of what you are looking for is essential.
It would be beautiful to read minds, but sadly that brain upgrade hasn't come through yet!
To get you thinking about the parts of your website that you're not satisfied with, let's think about your website goals – because that's really where the whole web design process should start. 
What do you want people to be able to do on your website?
When you had your website created, you likely had an idea of why you wanted it in the first place. Below we've listed some of the main reasons that you might have decided to purchase a website.
Do you want people to hire you for a service?
Do you want to make sales through from your shop?
Would you like to enrol people onto your courses?
Do you want people to be able to sign up for your webinar or event?
Would you like people to have easy access to your blog posts
Do you want more people to sign up to your email list and download free resources?
Do you want people to listen to a podcast or watch your content?
Do you want to make it easier for your clients to get an automated quote?
Do you want people to contact you by phone or email?
Ideally, you'd only want one of these to be the primary goal of your website; not only does this make it easier for the designer, but it also makes sure that your visitors are truly getting what they need for your website.
Action point: Think back to your opening conversations with your designer; what was the main goal for the website at the time? Is your new website fulfilling that goal?
Next, go ahead and answer these questions;
Does your website have all the content that your customers or clients will be looking for?
Are there questions you're answering for your clients in person that aren't covered by your website?
Do the colours and fonts chosen for your website match your brand, and will they resonate well with your target audience?
Is it easy to understand the navigation of your website? Have you had anyone you know look through it and try to get from A to Z? What were the issues they came up with?
Is it easy to read and accessible for your audience on all technology formats, including phones, tablets and desktop computers?
Do your eyes follow a comfortable pattern down through the website's content, or are your eyes darting around to try and track the flow of the text?
Do each of your pages have a single call to action, or are the pages asking your clients' too many questions – eg. A nutritionist might be selling 1-2-1 packages for their clients, but the 1-2-1 package page on their website is also signposting them to buy items from their online shop; we don't want the focus taken from the 1-2-1 packages the leading service the nutritionist is providing.
Has the designer given your clients/customers an easy way to get in touch with you, either by a contact page or your contact details in the footer of your website?
Is your website showing you as a credible business, using testimonials, worked/collaborated with logos?
The above questions are the most important ones that you need to consider. You'll notice that there aren't any questions in the section about parts of the website that you may/may not like, don't worry – we'll get to that.
If you've answered yes to all of the questions above, we've got great news. Your website is actually in a great place. These points make up the main factors that will cause your customers to stay or leave your website. Saying yes means it's more than likely that your visitors will be able to find everything they need, and your website has managed to boost your potential customers' trust. 
Most common issues that business owners have with their websites?
I don't like the way it looks.
It's not giving me the traffic that I had anticipated.
My website keeps breaking.
I don't know how to change things on my website.
These are some of the most common issues from clients or people complaining about their websites. Let's go through each scenario and see what you can do to help the website go from a 0/10 to a 10/10.
"I don't like the way it looks."
This is probably the most difficult of the four to change. If your website is live, it's already had rounds of design revisions and content drafts. If the website launches without you being happy with the way it looks, there has likely been miscommunication along the way. This isn't to say that it's your fault or the designers. Design is creative and subjective.
From the designer and user experience expert standpoint, we would look at the website best practices and see how a website matches up to those. A website does not have to look pretty to work, but it does have to be functional. Ideally, you'd want both, but the function is 10x more important.
Your website shouldn't have left the design table if you weren't proud of it, though. So, what do you do?
The number one thing you MUST do is speak to your designer and go into it with examples of what you're looking for. Let them know that you appreciate the work done on the website, but it's not quite where you wanted it.
Go into the conversation as you would in a hair salon, bring screenshots and links to give a designer an idea of what you want from the website. Make sure that these examples are relevant to your business and target market.
Remember to keep in mind the question and answer section above, "is the website doing all of these things, am I asking the designer to change the design, or am I asking for functionality/content/development changes?"
Each designer will be different in how they deal with these situations. The designer will judge how much work needs to go into a re-design and decide on the price point from there. In the case of minor design changes, they would typically do them for free. However, if you ask to re-design over ten pages with animations or specific coding – you'll be looking at another investment cost.
"It's not giving me the traffic that I had anticipated."
If you are saying this to yourself, you probably already had a goal in mind when the website was built. For some disappointed business owners, the crux of the issue is generally around the lack of knowledge on what you were purchasing in the first place. Having a website doesn't automatically mean that you will receive traffic through it. You need to check how much SEO work has been done on the site.
Are all meta titles filled, have you got fresh new content flowing through the blog, has keyword research been done, is the website showing up on the front page of Google for your specific long-tailed keywords, have all images been added with the correct file names and alt text/descriptions?
As a general rule, if you paid a lower price for the website – these parts are usually left out.
Keyword research requires, as the name suggests, research into your business, sector, target market and the local area you trade in. Many web agencies will add this extra into their package price because of the time it can take.
So, what do you do if you find yourself in this pickle?
Did you agree to SEO work with the designer?
If yes and you're unsure how that's been implemented, the best case is to ask. Most designers will do an SEO audit or a health check to see where improvements need to be made. If this agreement wasn't built into the original contract, it's a good idea to speak to a designer about what needs to be done.
The other major issue with traffic building towards the website is your marketing, a website is simply a tool, and it needs to be promoted to see traffic flowing its way. Are you linking to the pages of your website through social media, are you posting your weekly blog posts into Facebook/LinkedIn groups, have you got any ads running, are you updating your website with relevant content updates?
If the answer is no, then your traffic numbers are likely to be lower. In this case, pop some research time into what you need to be doing to promote your business and get that website earning its keep!
"My website keeps breaking."
Are you getting feedback from website visitors that things are going wrong, or perhaps you've just noticed them as you grab links or update things?
If your issue is over the website breaking down when people try to access it, this needs to be sorted immediately. Hopefully, your designer has given you the ability to pop into the back end of your website and make changes to the content, but there might be some more technical jobs that need doing to keep your website up to date or maintained.
We see a few common issues with websites that cause things to break, specifically with WordPress. First of all, image sizes. If you've got lots of large images and video (file size), then it could be causing your website to come to a standstill. Effectively, it's just taking a long time to load everything. You can fix this by keeping it to a 400 x 250 px size. You can find more on this here.
The other issue often crops up when you haven't updated anything in a long time. If you have an old theme or outdated plugins, this could cause your website to come to a standstill in some very irritating ways. This requires you to access the dashboard and update the bits that need it there.
The final one that we want to mention here is if you've gone onto the back end and added things or taken them away. Sometimes fiddling around with the back end can cause links to break or the design to look off.
So, what's the next step if your website is broken. Again, communicate with the designer or developer. They'll be able to set things to rights and, in some cases, will offer hourly rates to keep your website at peak performance.
"I don't know how to change things on my website."
The access that you have to change things on your website will be different from designer to designer. In some cases, you might have a website back end that has boxes for you to fill in for content updates. Some designers will build a website and hand the reins over to you with full access to the back end, but they might not have explained how things work.
Hopefully, there isn't a huge amount that you need to change right as your website launches. As time goes on, your offering might change, and your website will need to be updated to reflect that – so where do you start.
Here you have two options, and it depends on how tech-savvy you are:
First up – if you know what your doing and would like to save some cash, jumping in to change things is pretty straightforward. WordPress websites are especially easy to update, and of course, you have access to Google if anything goes pear-shaped.
The other option is to get your designer involved. Suppose your website is hosted on the designer's servers. In that case, you might already be getting the all-important updates (this is how it works with us) – other businesses might need you to get back in touch and work out a plan for updating or give you a mini masterclass in how to do some of the tasks that you want to get sorted.
Final word
As you can see from the scenarios that we've discussed. A lot of this comes down to communication and getting in touch with the people who designed your website in the first place. Try not to go in all guns blazing as this can cause more issues than it solves but asking questions getting answers should be easy.
We hope this blog post will help you work on the website you're unhappy with. If you need any guidance or have some issues with your website, send us a message to hello@avidmode.com so we can set up a meeting to chat!
If you enjoyed reading this blog post, check out similar ones in the sidebar. Feel free to get in touch with to chat about your latest project ideas - we love a good excuse for more tea.