Why Google My Business is a golden opportunity for business
If you missed our newsletter last month, don't worry – we've got you. We'll be taking a look at how to set up Google My Business and there is a…

If you missed our newsletter last month, don't worry – we've got you. We'll be taking a look at how to set up Google My Business and there is a handy info-graphic at the end of the set up to help you with the next steps after you've been verified.
Being visible as a business can be tricky, especially as everything moves so fast online. We often hear that people aren't getting the right interest in their products or services.

They might be getting a call from a person in Inverness wanting catering for an event when they are based in Devon. This is a slightly exaggerated example but there is a way that you can make sure that the leads that you are getting from online are already filtered by location. Google My Business allows you to claim your business on their map service and we're going to run you through the setup for this today!
Step One – Claim Your Business – Pop the name of your business into this section, if you have multiple locations you'll want to set up multiple entries. Start out with your main location
Step Two – Choose a Category That Fits – Choose only one to begin with, you can go in and add more later.
Step Three – Business Location – Decide if you want to add a location for your business premises. If you do, put your full address into the space on the next page. (Make sure you do this without any typos). The next screen will prompt you to place the marker onto a map.
Step Four – Your Service Locations – This gives you an option to list the areas that you serve, in our case we opted for larger towns and cities in our vicinity that we are happy to travel to.
Step Five – Contact Details – Phone number and your website URL go into this section.
Step Six – Finish The Listing – This is the final page of setup before you reach your dashboard. Once you complete this section it will ask you once again for an address and send you out a postcard with a verification number that you'll place into the system in a few days time (depending on your postal service of course).
The rest of Google My Business is about completing your listing. On the right hand side of the dashboard it will show you a percentage complete circle and prompt you to complete a number of details.

Some of these are subject to you having verified with your postcard number. You can still fill bits in to be prepared for when the post makes it to you.
Now, the fun doesn't end here.
Once you've gotten your Google My Business location verified it's time to make sure that you are utilising all the capabilities that it has to offer. Below we share five handy tips that will help you make the most of your profile.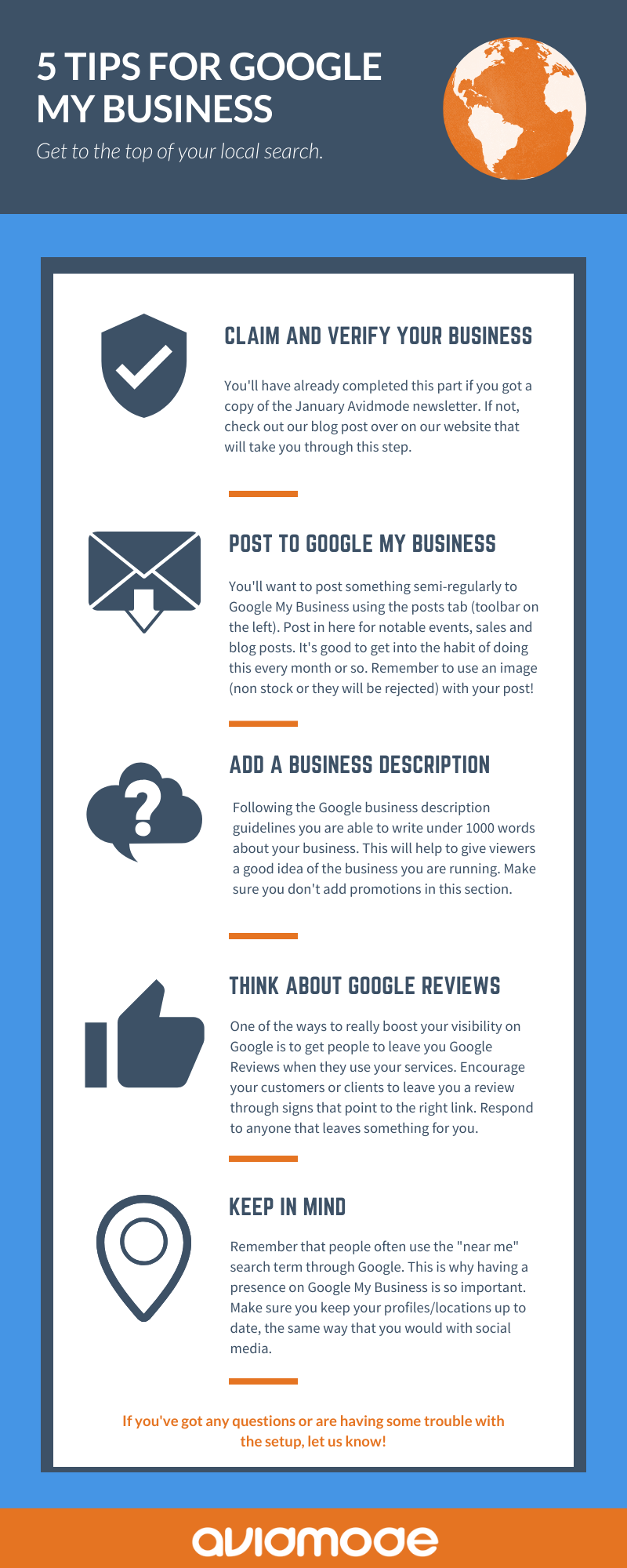 We hope that this run through has helped you with getting a start on Google My Business. Let us know how you cont on in the comments below!
If you enjoyed reading this blog post, check out similar ones in the sidebar. Feel free to get in touch with to chat about your latest project ideas - we love a good excuse for more tea.