Creating customer personas using an empathy map
We've looked at one approach to creating customer personas, but now we're going to take another swing at it from a different angle. Some people find that the more traditional…

We've looked at one approach to creating customer personas, but now we're going to take another swing at it from a different angle. Some people find that the more traditional way of creating personas hinders their creativity. If you're struggling with the process, this might just help.
The method we looked at previously was traditional, where you start with research and a blank sheet of paper and end up with a completed persona. This works well, but it's definitely not suited to the way everyone.
One of the other methods we use at Avidmode is to create empathy maps. This technique is from the Business Model Generation book by Alexander Osterwalder and Yves Pigneur.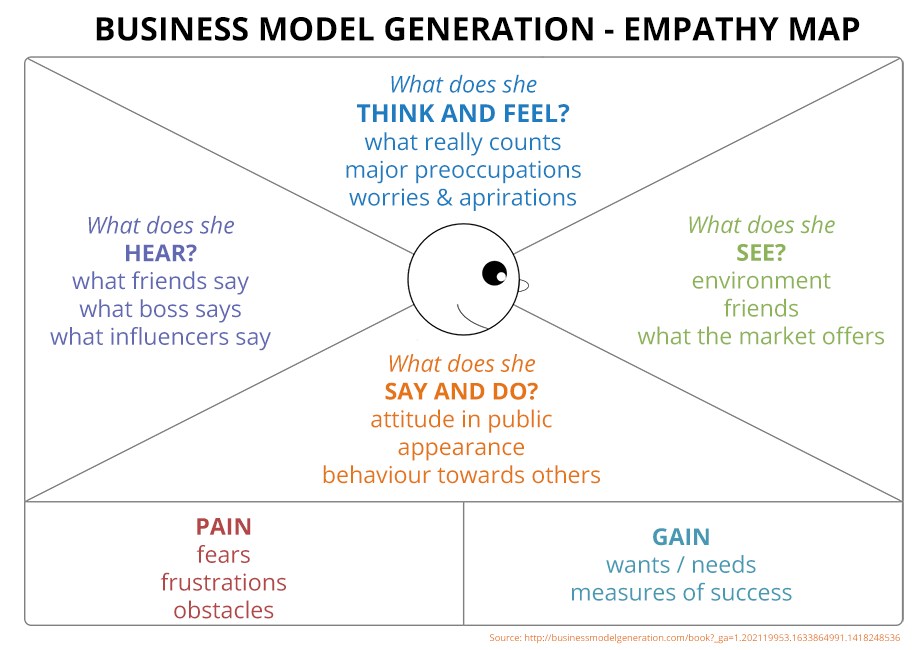 It's great for getting started, and it's a both visual and tactile approach, allowing for more lateral thinking. Ideas start to flow and this gives you the means to capture them all, however wild they might be, so that you can then distill them to a final initial version.
I've even used this process purely with images. Instead of using words as a start, you can take a bunch of magazines and online sources and identify images which speak to each section of the empathy map.
A quick empathy map framework to get you started
1. Print out or draw the empathy map on an A1 piece of paper or card.
2. Gather all the resources and market research you have.
3. Brainstorm each section using post-it notes, making sure to capture text or images to every question.
4. Once you've done as much as you can and your map is covered in ideas, leave it be; this is a good time to take a break.
5. Come back and review each of the post-it notes and images, making sure you've covered all the aspects from the traditional technique.
Meet Cool Colette
Let"s have a look at an example based on the Cool Colette persona.
This shows what an empathy map might look like at stage four of the process. It's starting to build a clear picture of Cool Colette, which we can then refine to provide even more detailed insights.
And that's it, in a nutshell.
You'll need to do one of these for each persona you identify for your business. If you need a hand with getting started, feel free to ask questions in the comments section, reach out to us on our Twitter/Facebook/Linkedin or schedule a call with me.
Post edited in August 2018. Cover photo by Annie Spratt on Unsplash.
If you enjoyed reading this blog post, check out similar ones in the sidebar. Feel free to get in touch with to chat about your latest project ideas - we love a good excuse for more tea.