Common social media questions
There are a number of questions that regularly pop up when I have met with clients or just when I'm out having a coffee with someone looking into getting more out of their social media. Many of the answers can be subjective and can differ from business to business so it's not always clear-cut. Here are our answers to the top four most asked questions.
Should I be present on all social media platforms?
Short answer to this one is no. There are very limited circumstances where it would be beneficial for you to have a presence on all social media platforms. In fact, the only reason that you might want to do this is if you are a social media marketer with a business selling your social media services.
Technically, there are hundreds of websites that we would now consider social media platforms, it would take you a VERY long time to set up a presence on all of them and it would be even more of a task to keep them all up to date. Usually, when we talk about the platforms we mean those that are used by the majority of people – you could probably name some of these yourself;
These are the global statistics for social media platforms with the most active users in July from a fabulous website called Statista. If you are starting up a baking business, personal assistant or admin services to the next level or thinking about opening a storefront selling electronic goods there is no need for you to be on all of the platforms. You want to focus on the ones that make the most sense for your market. Continuing with our three examples let's have a look at what you might choose.
Marie opened her small baking business from home back in 2014, in the meantime, she has expanded her business to include a production kitchen and now has 10 staff members. Most of her business is done across the UK, she does not ship internationally. Marie is looking to expand her business and believes that having a better online presence will help her do this. Which platforms should she choose?
As Marie is based in the UK this cuts down her platforms significantly. The top platform is, of course, Facebook which works well when a business is local or national, she can set up a page here and lead people through to her website. Depending on her preferences she might want to start up a baking channel on YouTube, this content could also be posted cross-platform (videos do very well on Facebook) – some people don't like to be in front of the camera, however. Other options from the list include Pinterest and Instagram, both very popular in the UK and fantastic for creative businesses!
Cameron began working as a personal assistant after he left university with his business degree. He has had some success finding works using freelance websites but would like to expand reach beyond that. Cameron work from home and is able to work any hours, he speaks English, French and German fluently. Over time he is building up a good list of clients often recommend him to others. Which platforms would we go with in Cameron's case?
Along with a simple website, we would go with some of the top performing European platforms. Cameron would do well to nurture his connections from the freelancing websites and provide a place for people to get in contact with him and see what his skill set has to offer, LinkedIn is a great platform for this kind of goal. He will want to avoid the creative platforms for the most part as the benefit gained from them would be minimal. Depending on his previous client's locations he may want to set up a Facebook where he can connect with people or/and a Twitter account used for the same purpose.
Carmen is opening up a new electronics shop with her husband in North Wales. The pair would like to focus on their local area as well as northern England and possibly Scotland. Though the pair has a background in computers and internet services they don't regularly use social media other than to keep up with friends and family.
In this case, we would recommend a similar set up to Marie's. Facebook will be a good shout for connecting with people in their local area. YouTube would be a great option if the pair would like to look into doing reviews on new products. We'd recommend avoiding Pinterest however, Instagram might do well at attracting people to visit their page/website.
As you can see, there are some clear favourites when it comes to business. For more professional service go down the LinkedIn route, with a creative business have a presence where you can show off your creations and Facebook is a good all-rounder. Remember that in order to get the most out of your social media you must be consistent and reliable – an empty unused account isn't doing anything for anyone.
---
Difference between scheduled posting and reactive posting?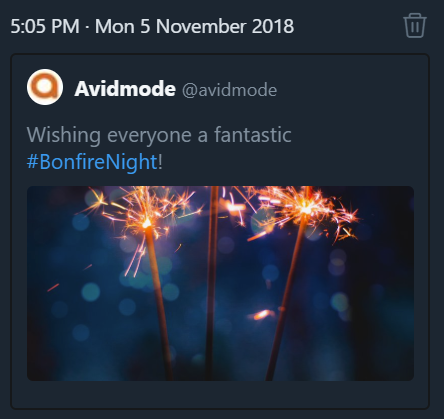 Scheduled posting is a great tool that lots of digital marketers and social media managers use to free up time. Often, you'll want to be posting about a topic that is related to a specific time period or an event that's happening. In these cases, you can use tools to help take some of the day to day load off. As an example, you will want to be posting about some of the larger holidays/annual events like Christmas, Easter etc. You know these events are upcoming so in order to get them sorted on social media you schedule a post on one of the tools (ex. Tweetdeck, Hootsuite, Sproutsocial) and it saves you time along the way.
You can also do this type of scheduled posting for weekly hashtags like #FollowFriday, #TuesdayThoughts and #WisdomWednesday.
Another way that you might use the scheduled postings is if you have a large backlog of content that you want to share out regularly. Instead of posting them each day or once a week you can set up the posts to do it without you having to interact at all.
This is where the social part of your job will come in. Having the scheduled content is all well and good as long as you find the time to have conversations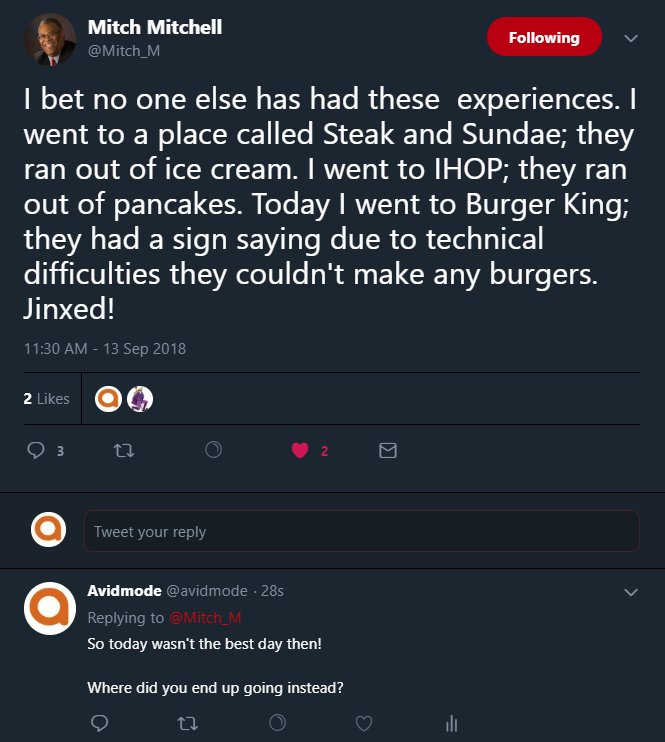 with people, join Tweetchats and answer questions as they crop up. Personally, I like to pop in once a day to see if there has been any interaction and to like/retweet and comment on other people's posts.
This is the "social" side of social media and it shouldn't be overlooked – just like this example with @Mitch_M!
---
How many posts per week?
This is another regular question, it tends to differ from platform to platform and business to business. However, my rule of thumb for the big five are as follows;
Facebook 
Up to five times a week, if you are basing most of your social media work around this platform it should be at the higher end. You want a good mix of scheduled and reactive. For every scheduled try to have to reactive postings.
Twitter
Large backlog of content to post? Schedule regularly. Comment, like, post and retweet each day. Join in one or two Tweetchats a week on subjects that relate to your business.
YouTube
Once to twice a week for posting, you can do more but this would be more than enough for a business just trying to get into the video space. Make sure you are social in the comment section.
Instagram
For those with creative businesses, between three to five times a week. You want to be conservative on what you post, only choose the best images from the bunch!
LinkedIn
Between three to five times a week – being active on LinkedIn is important so people keep reaching out to you and joining your network. Number one rule of LinkedIn: Keep it professional.
Remember that there is such a thing as too much! 
---
How do I know which topics to post, write and comment on?
It comes down to your research and your ideal audience. We always suggesting working out those first and then the topics become easier to find, you can do this by building buyer personas and doing demographic research. If you're a retailer selling phone cases, nail art and makeup it's probable you will have a different audience to someone running an insurance business!
Keywords – write a list of keywords that relate to your business. Use those to find content on social media or come up with posts based on them.
Mind Mapping – Base these on your research, put yourself in the shoes of your audience or client and think about what you would want to read.
Daily trends – Twitter is great for this one, there are usually topics on there that relate in some way to you or your business. It needed always be directly related to your business, just something that your audience might be interested in. For example #RoaldDahlDay would get the interest of many different age groups so it's something that you might want to post about!
---
Those are our answers to some of the most common questions related to social media, if you've got any other questions that you'd like to answer then don't hesitate to contact us!
Thanks for the photos by rawpixel and Bryan Minear on Unsplash